About Wengers
Thanks for visiting wengers.com! Here, you'll find any and all information about Wengers of Myerstown -- from company history to our privacy policy. Simply click the tab you'd like to learn more about!
Company History
Wengers of Myerstown was founded in 1947 by Carl Wenger.
Carl began his business career in 1947 at the age of fifteen by serving as a "nickel man" at the local auctions where he would purchase power tools and carpentry supplies that needed repairs. He would take them to his family's general store in Rexmont, PA to repair and resell them. Carl married Margaret Buffenmeyer of Cornwall, PA in 1950 and the couple moved to the family-owned farm on Race St in Myerstown, PA to begin dairy farming. In 1952 Carl began buying and selling used farm tractors and equipment and by 1958 the business had grown to the point where dairy operations were reduced and Wengers Farm Machinery was incorporated.
Things took a major step forward in 1960 with the construction of a separate building to house the business. Located at 251 South Race Street, the new building was a huge improvement over the makeshift dining room office and shop in the garage at the family farm. The new block building served as the business headquarters for more than 3 decades, until the business would relocate to a new modern facility along route 501 in Myerstown. In 1989 the Wengers moved and expanded their farm equipment and tractor parts operations to the new facility on Route 501 in Myerstown. This new facility included an expanded warehouse to store new and used tractor parts indoors as well as an expanded sales lot to store and sell farm equipment and tractors.

By 1996 the Wengers finished a second building project and moved their construction equipment/ parts operations and administrative offices to Route 501 in Myerstown as well. Today, the original building at 251 S Race St is the home of Wengers Machining Services, which is a full-service engine machining shop. In 2006 Wengers added another product line to their business when they opened Wengers Motorcycles Sales. Operating out of the same building as our Construction Department, Wengers has close to 100 used motorcycles in their inventory for sale. Whether we're talking about farm machinery, construction equipment, salvage parts or motorcycle sales our goal remains the same, offer good, clean, used equipment for a fair price.
Wengers of Myerstown is proud of its history. Today we employ over 60 people at our 3 locations in Myerstown, including 15 members of the Wenger family. All 7 of Carl & Margaret's children are active in the company today, as well as 5 of their grandchildren and a few of their spouses, which makes Wengers truly a family business.
Company Staff
| | |
| --- | --- |
| President & CEO | Glenn Wenger |
| Senior VP & COO | Rob Dubble |
| | |
| --- | --- |
| Secretary & CPO | Rose Walmer |
| | |
| --- | --- |
| Accounts Rec. & CAO | Josh Wenger |
| Accounts Payable | Brittany Gockley |
| | |
| --- | --- |
| Chief Information Officer | Terry Wolfe |
| | |
| --- | --- |
| Director of Ecommerce & Marketing | Brayden Smith |
| Social Media & Content | Anna Benton |
| Online Sales/CX Specialist | Bo Aungst |
---
Manager
Josh Kline
Buyers

Dave Wenger

Jacob Kline

Technical Writer

James Bennetch
Sales

Jacob Kline

Ryan McNutt

Oscar Sipler

Lloyd Wenger
---
Sales Manager
Jake Walmer
Production Managers

Caleb Mohn

Dan Atkins

Purchasing
Matt Pohronezny
Sales

Harry Bottomstone

Dylan Bomgardner

Tom Holmes

Michael Meholik

Larry Wenger
Sales Manager
Matthew Price
Production Manager
Ken Walmer
Sales

Lane Cox

Hugh Gensemer

Randy Hoffman
---
Manager
Daryl Mathew
Machinists

Brian Bender

Carl Kauffman

Dave Rutter

Donnie Sprecher
---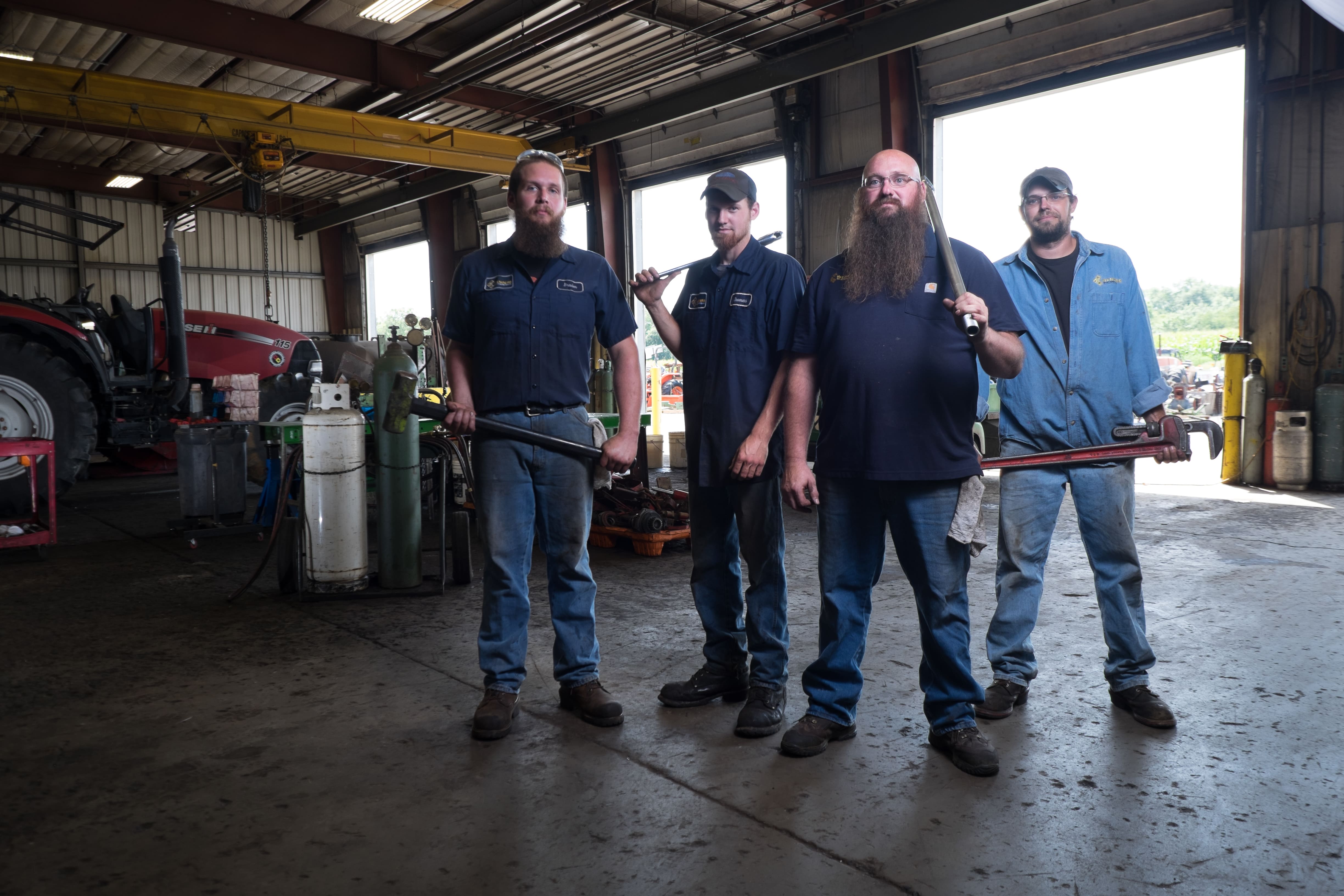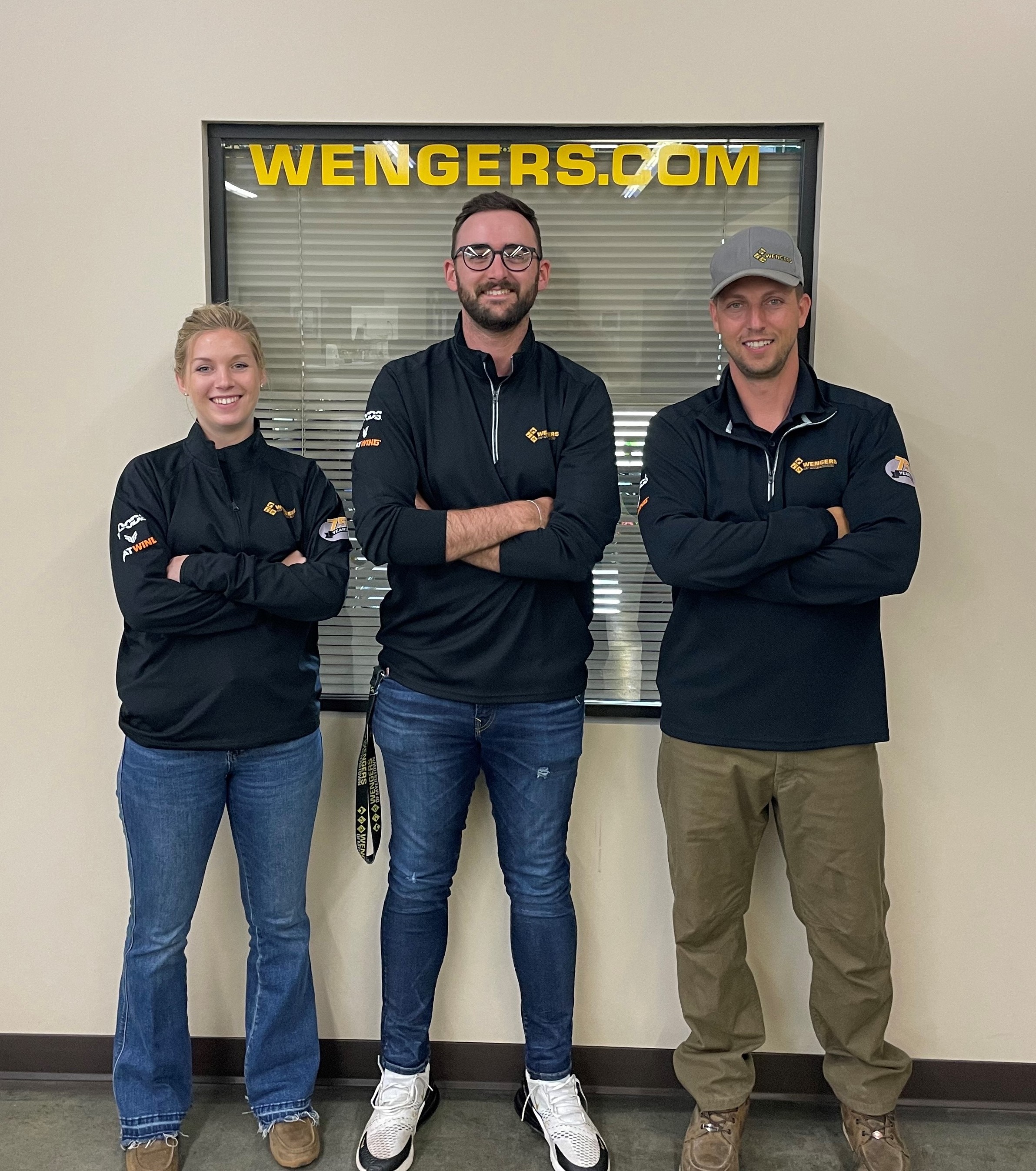 Agriculture Division
814 S College St. Myerstown, PA 17067
Monday-Friday: 7:30am - 5pm
Saturday: 7:30am - 12pm
At this Location:
Agriculture Sales
Trailer Sales
Tractor Parts
Skid Loader Parts
---
Construction Division
831 S College St. Myerstown, PA 17067
Monday-Friday: 7:30am - 5pm
Saturday: Closed
At this Location:
Administrative Office
Construction Equipment
Construction Parts
---
Machining Services
251 S Race St. Myerstown, PA 17067
Monday-Friday: 7:30am - 5pm
Saturday: By Appointment Only
At this Location:
Machine Shop
The Wenger Foundation
The Wenger Foundation Inc. strives to support religious, educational, and community services programs through corporate contributions from Wengers of Myerstown, as well as, individual contributions and fund solicitations for special events.
The Wenger Foundation, Inc. was founded in January 1996 as a private, non-profit organization. The premier event of the Foundation is the annual Praise Dinner, which was first held as a memorial dinner for Carl and Margaret's granddaughter, Renee Ann Layser. The community responded so well that the event was re-branded as the Praise Dinner and has continued through the years. There are currently four different ministries benefiting from the event: COBYS Family Services, Friendship Community, Evangelical Seminary, and On Fire Youth Ministry. This event has generated gifts totaling over $2 million for these and other ministries.
Today our mission is to transform our community by funding faith-based and family-centric programs that change lives. If you would like to learn more about the foundation or partner with us, check out the foundation website for more details. Thank you to all who have helped make the Wenger Foundation a success.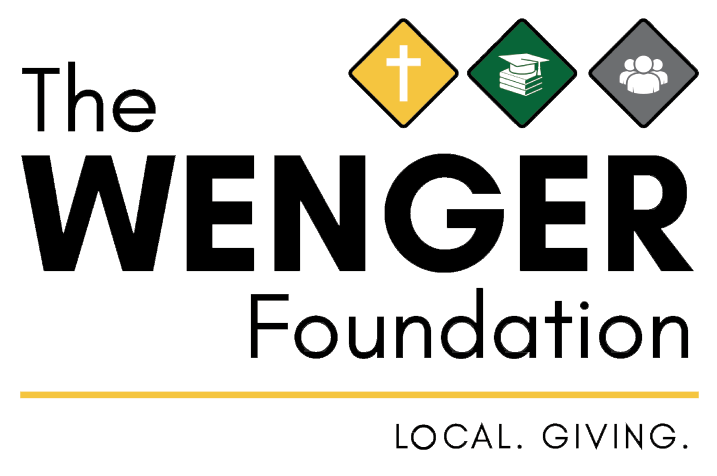 ---
---

Wenger Farms

Wenger Farms was established in 1950 and has been in the registered "American British White Park" cattle business since 1995. American British White Park has been traced back to as early as the year 80 A.D. Even with this extensive history, it is a breed that meets today's beef industry requirements. The cattle are moderately sized with females maturing at 1000-1200 pounds and bull weighing 1800 pounds or more. All the characteristics that today's cattlemen are looking for are found in these cattle: high fertility, calving ease, superior maternal instinct, outstanding vigor, dark pigmentation, predominately polled, and docile.
---
Improved Maternal Instinct
American British White Park Cows have maternal instincts far superior to the average cow. It is an unknown problem of this breed for cows to not claim their calves. The claiming of the calves by the first calf heifers puts these calves at a developmental advantage over other breeds.
Fertility
The Whites conception rates are high and first calf heifers conceive easily. Cows often remain in herds until they are fifteen or sixteen years old. This is an economic factor that cannot be overlooked by the commercial cowman. High percentage calf crops start with conception and American British White Park cows excel in conception rates.
Oustanding Vigor & Hardiness
Respiratory problems are virtually unknown in this breed. This is unbelievable and difficult to state, but nonetheless, it is a fact. This breed comes from a very hearty background stock that survived in the wild many generations before being domesticated.
Association
This is a new association formed to unite the breeders of American White Park and British White cattle. These two breeds are actually the same breed under different names. Many of the cattle come from the same bloodlines and are not to be confused with the horned Ancient White Parks.
---
This new organization does not register horned animals. The breeders of American British White Park cattle have put forth much effort to build a breed of the highest quality possible. Give these cattle a try and see what they can do on your own farm or ranch. They cross well with other breeds, but actually produce the best cut-outs as straight line or pure "whites". This association is proving to cattlemen through feedlot tests that American British White Park cattle are a superior beef producing breed for the modern beef industry.
CUT-OUT DATA AVERAGE
| | |
| --- | --- |
| Ribeye | 13.5 square inches |
| Back Fat | .27 |
| Grade Choice | 86% |
| Yield Grade | 93% YGI&2 |
| Hot Carcass | 705 pounds |
CONTACT INFORMATION
Manager
Glenn T. Wenger
Email
gwenger@wengers.com
Phone
717-866-8400
Fax
717-866-4300
Mailing Address

831 South College St.

P. O. Box 409

Myerstown, PA 17067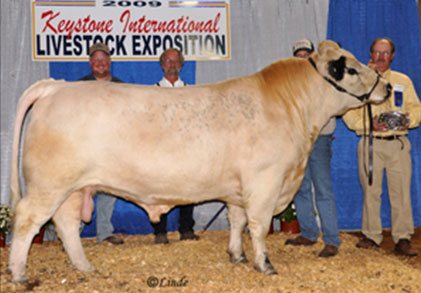 Wengers TW92 Trooper Calved: 2/20/07, '09 National Champion Bull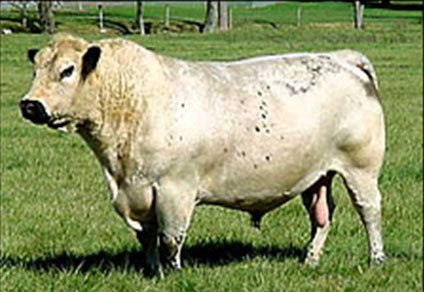 Mytown Frank Calved: 5/1996/07, Our held sire since 1997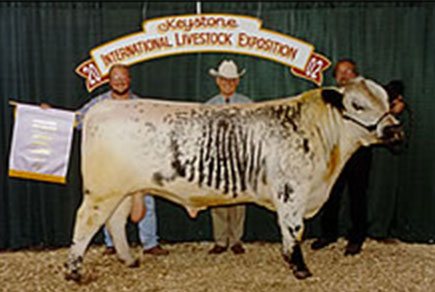 Mytown Kicker. 2002 National Reserve Champion White Park Bull
Terms of Purchase
Warranties
Used Equipment: Wengers offers no warranty on used equipment. All used equipment is sold "as-is", without any warranty. Wengers makes no warranty regarding reported hours on the machine.
New Equipment: New equipment may come with a manufacturer's warranty or third-party warranty. Please verify with your salesperson whether a warranty is provided or available. Although Wengers may be authorized by the manufacturer to assist you with a claim, warranty claims remain the responsibility of the manufacturer/third party. Wengers provides no separate warranty and has no liability or responsibility for warranty claims of any kind.
Limited Parts Warranty: All parts sold by Wengers of Myerstown have a ninety (90) day limited warranty (beginning at invoice date) against defect or failure, provided the part or item has been used correctly and not abused. We warrant that, if the part is defective or fails during the ninety (90) day period, a replacement part or full refund (at the discretion of Wengers) will be given upon receipt of the defective part and a copy of this invoice. This ninety (90) day limited warranty does not include normal wear items such as seals, bearings, and bushings. Wengers of Myerstown will not be responsible for: (1) damages to other parts or equipment; (2) labor or repair costs; (3) other claims for damages. Remedies are limited to the price of the part sold by it, as provided under this limited warranty. UNDER NO CIRCUMSTANCES WILL WENGERS OF MYERSTOWN BE RESPONSIBLE OR LIABLE FOR INCIDENTAL OR CONSEQUENTIAL DAMAGES OF ANY KIND.
ALL OTHER WARRANTIES, EXPRESS OR IMPLIED, ARE EXCLUDED. THE WARRANTIES OF MERCHANTABILITY AND FITNESS FOR A PARTICULAR PURPOSE, AS DESCRIBED BY THE UNIFORM COMMERCIAL CODE, ARE EXCLUDED. EXCEPT FOR THE NINETY (90) DAY WARRANTY SET FORTH ABOVE, ALL PARTS AND COMPONENTS ARE PURCHASED IN AN "AS-IS" CONDITION.
Other Terms
Damages: Under no circumstances will either party be liable for consequential or incidental damages of any kind.
Jurisdictional Statement: This contract will be governed by the laws of the state of Pennsylvania. The parties agree the Court of Common Pleas of Lebanon County, Pennsylvania, will be the exclusive forum for resolution of any disputes between the parties.
Entire Agreement: Wengers invoice and these terms constitute the entire agreement between the parties. No other oral statement, representations or covenants induced any party to enter into this contract.
Online Parts Pricing Disclaimer
During our tagging and pricing process, it is possible that a part reaches our website before it is priced. Wengers of Myerstown WILL NOT HONOR ANY ORDERS that include a part priced at $0.00. In the event that a part is purchased for $0.00, a Wengers employee will provide a price to the purchaser, and the purchaser will have the opportunity to agree to that price or cancel the order. If the purchaser and Wengers of Myerstown do not mutually agree to a price, the order will be considered null and void.
Return & Refund Policy
Thanks for shopping at wengers.com. If you are not entirely satisfied with your purchase for any reason, we're here to assist you.
Returns
You have 90 calendar days to return an item from the date you received it. To be eligible for a return, your item must be in the same condition you received it, and in its original packaging. You must also provide a receipt or proof of purchase.
Refunds
Upon receiving your item, we will inspect it and notify you immediately about the status of a potential refund. If your return is approved, we will initiate a refund to your original method of payment (credit card, etc.).
Shipping
You will be responsible for paying for your own shipping costs for returning your item. If you receive a refund, the cost of return shipping will be deducted from your refund.
Contact Us
If you have any questions on how to return your item to us, contact us at (717) 866-8424.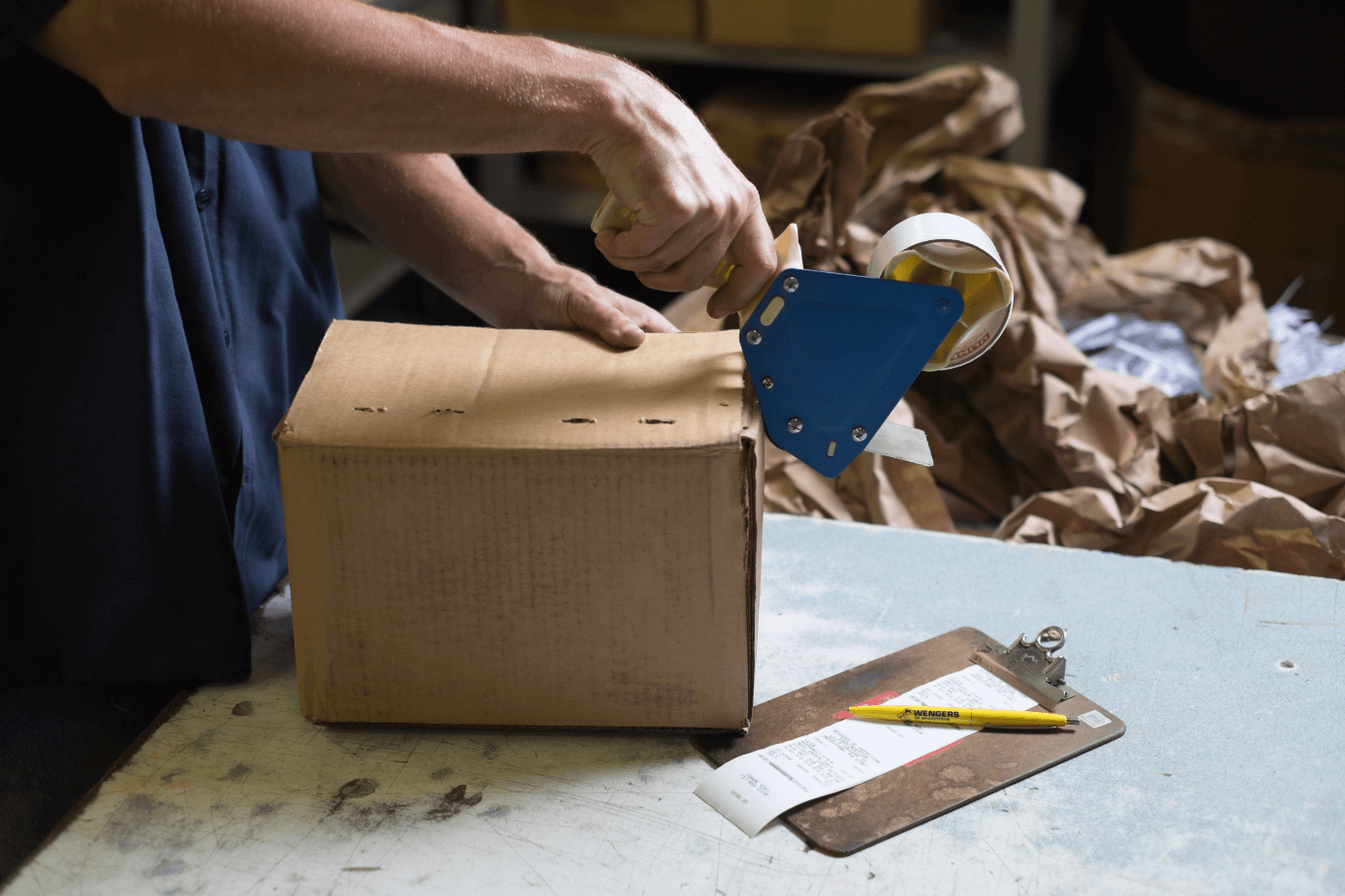 Privacy Policy
Customer trust has been at the forefront of the Wengers business since 1947. Because of this, protecting our customers' privacy is of the highest importance to us. You can always feel confident that your information is protected when shopping with Wengers!
Any information that is collected through our website is used solely internally for processing and data analysis purposes. We will never pass your data to another person, enterprise, or organization.
This privacy policy sets out how Wengers of Myerstown uses and protects any information that you give Wengers of Myerstown when you use this website. Wengers of Myerstown is committed to ensuring that your privacy is protected. Should we ask you to provide certain information by which you can be identified when using this website, then you can be assured that it will only be used in accordance with this privacy statement. Wengers of Myerstown may change this policy from time to time by updating this page. You should check this page from time to time to ensure that you are happy with any changes.
What we collect
Name
Contact information including email address
Demographic information such as postcode, preferences and interests
Other information relevant to customer surveys and/or offers
What we do with the information we gather
We require this information to understand your needs and provide you with a better service, and in particular for the following reasons:
Internal record keeping.
We may use the information to improve our products and services.
We may periodically send promotional emails about new products, special offers or other information which we think you may find interesting using the email address which you have provided.
From time to time, we may also use your information to contact you for market research purposes. We may contact you by email, phone, fax or mail. We may use the information to customize the website according to your interests.
Security
We are committed to ensuring that your information is secure. In order to prevent unauthorized access or disclosure, we have put in place suitable physical, electronic and managerial procedures to safeguard and secure the information we collect online.
How we use cookies
A cookie is a small file which asks permission to be placed on your computer's hard drive. Once you agree, the file is added and the cookie helps analyze web traffic or lets you know when you visit a particular site. Cookies allow web applications to respond to you as an individual. The web application can tailor its operations to your needs, likes and dislikes by gathering and remembering information about your preferences.
We use traffic log cookies to identify which pages are being used. This helps us analyze data about web page traffic and improve our website in order to tailor it to customer needs. We only use this information for statistical analysis purposes and then the data is removed from the system.
Overall, cookies help us provide you with a better website, by enabling us to monitor which pages you find useful and which you do not. A cookie in no way gives us access to your computer or any information about you, other than the data you choose to share with us. You can choose to accept or decline cookies. Most web browsers automatically accept cookies, but you can usually modify your browser setting to decline cookies if you prefer. This may prevent you from taking full advantage of the website.
Controlling your personal information
You may choose to restrict the collection or use of your personal information in the following ways:
Whenever you are asked to fill in a form on the website, look for the box that you can click to indicate that you do not want the information to be used by anybody for direct marketing purposes
If you have previously agreed to us using your personal information for direct marketing purposes, you may change your mind at any time by writing to or emailing us at tractorparts@wengers.com
We will not sell, distribute or lease your personal information to third parties unless we have your permission or are required by law to do so.
List of cookies we collect
The table below lists the cookies we collect and what information they store.
| | |
| --- | --- |
| CART | The association with your shopping cart. |
| CATEGORY_INFO | Stores the category info on the page, that allows to display pages more quickly. |
| COMPARE | The items that you have in the Compare Products list. |
| CURRENCY | Your preferred currency. |
| CUSTOMER | An encrypted version of your customer id with the store. |
| CUSTOMER_AUTH | An indicator if you are currently logged into the store. |
| CUSTOMER_INFO | An encrypted version of the customer group you belong to. |
| CUSTOMER_SEGMENT_IDS | Stores the Customer Segment ID. |
| EXTERNAL_NO_CACHE | A flag, which indicates whether caching is disabled or not. |
| FRONTEND | You sesssion ID on the server. |
| GUEST-VIEW | Allows guests to edit their orders. |
| LAST_CATEGORY | The last category you visited. |
| LAST_PRODUCT | The most recent product you have viewed. |
| NEWMESSAGE | Indicates whether a new message has been received. |
| NO_CACHE | Indicates whether it is allowed to use cache. |
| PERSISTENT_SHOPPING_CART | A link to information about your cart and viewing history if you have asked the site. |
| POLL | The ID of any polls you have recently voted in. |
| POLLN | Information on what polls you have voted on. |
| RECENTLYCOMPARED | The items that you have recently compared. |
| STF | Information on products you have emailed to friends. |
| STORE | The store view or language you have selected. |
| USER_ALLOWED_SAVE_COOKIE | Indicates whether a customer allowed to use cookies. |
| VIEWED_PRODUCT_IDS | The products that you have recently viewed. |
| WISHLIST | An encrypted list of products added to your Wishlist. |
| WISHLIST_CNT | The number of items in your Wishlist. |
Events
WENGERS TRACTOR CRUISE
Saturday, August 19, 2023 @ 251 S Race St, Myerstown, PA
---
27TH ANNUAL PRAISE DINNER
TBA, 2024 @ Lebanon Expo Center
---

Ag-Industrial, Inc.
Ag-Industrial is an excellent partner and sister company to Wengers of Myerstown. While we deal in primarily used equipment and parts, Ag-Industrial is a great place to go for the new stuff -- tractors, balers, attachments & more -- and they specialize in New Holland equipment. Started in 1976 in Rising Sun, Maryland, the company now has four amazing locations (all of which you can see down below).
| | |
| --- | --- |
| Monday - Friday | 7:30 AM - 5:00 PM |
| Saturday | 8:00 AM - 12:00 PM |
| | |
| --- | --- |
| Address | 767 Penn Drive Tamaqua, PA 18252 |
| Telephone | 570-386-5945 |
| Toll Free | 888-481-8019 |
| Fax | 570-386-4080 |
| | |
| --- | --- |
| Address | 110 S. Railroad Ave. New Holland, PA 17557 |
| Telephone | 717-354-4191 |
| Toll Free | 800-346-8319 |
| Fax | 717-355-2272 |
| | |
| --- | --- |
| Address | 50 Greenmount Rd, Rising Sun, MD 21911 |
| Telephone | 410-658-5568 |
| Toll Free | 800-442-5043 |
| Fax | 410-658-5791 |
| | |
| --- | --- |
| Address | 36 Victory Chapel Road, Dover, DE 19904 |
| Telephone | 302-724-5772 |
| Fax | 302-724-7905 |